About
Here is a little more about me and my family.
Bio
I was converted to Christ as a young man and answered the call to the gospel ministry in 2004. Since 2004 I have ministered alongside pastors, missionaries, and church planters abroad and among the tribes of North America. I have a heart for the edification of Christ's church and the evangelization of all peoples.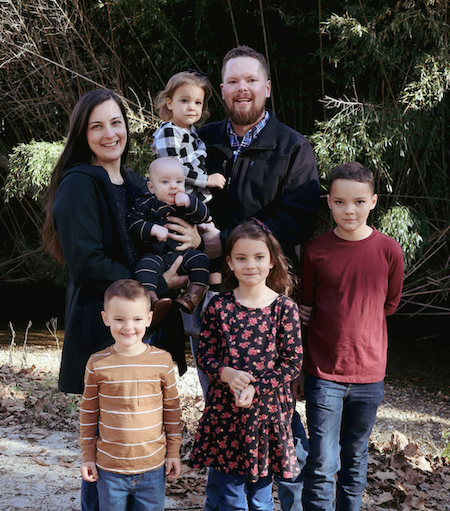 My wife Lydia and I have been married since 2010, and we have five children: Rob, Chloe, Ben, Anna, and Marshall.
I graduated from Georgia Baptist College in 2007 (B.A. in Pastoral Studies) and am currently working on my MDiv at IRBS while serving as a pastoral intern at Heritage Baptist Church, Mansfield, TX.
Timeline
Here is a brief overview of the ministry until now:
1997-2010 (Beginnings)
1997: God graciously delivered from a dead profession to living faith in Christ (age 13).
2004: Called to the gospel ministry (age 20), as recognized and affirmed by the church where I was a member.
2007: Graduated from Georgia Baptist College (Bachelor of Arts in Pastoral Studies).
2004-2012: The Lord opened doors for me to minister:

among several North American tribes.
in street preaching ministry across the U.S.
alongside missionaries in about 12 different countries.

2010: Lydia and I were married.
2012-2020 (Native American Missions)
2012: We helped for 7 months with a church plant in a Yupik Eskimo village in Alaska.
2013-2014: We relocated from our home in North Carolina to base in Oklahoma among the 39 tribes.

David was ordained and sent by Big Cove Baptist Church, Cherokee, North Carolina.
Worked in evangelistic meetings among the tribes in all main sectors of Oklahoma, working toward an open door for a church plant.
Developed and began teaching a one year series of monthly modules designed to assist men in the ministry.

2015-2020:

After an evangelistic meeting on the Comanche Nation tribal complex near Lawton, Oklahoma, we relocated to base among the Comanche Nation and surrounding tribes (Western Oklahoma).
In September 2015, with the help of Mike Styres, I planted what came to be Covenant Baptist Church (Lawton,

OK

).
2021-2022
In late 2020 we moved to the Mansfield, TX area, where I am currently working on my MDiv from IRBS while serving as a pastoral intern at Heritage Baptist Church, Mansfield, TX.
Future Plans
After finishing my seminary work (D.V. December, 2023) My hope is to minister full time in church planting or in pastoring in an established church.
Support Info
Here is our support info and address: Support Info